HILTON HEAD ISLAND, S.C. (November 13, 2017) – Linda Hartough, world-renowned golf-landscape artist (www.hartough.com), and a 2017 inductee into the Lowcountry Golf Hall of Fame, has been commissioned by RSM US LLP, the sponsor of The RSM Classic, an official PGA Tour event, to create original oil paintings of Sea Island Golf Club and The RSM Classic – one each for the 2017, 2018 and 2019 tournaments. Three different holes will be painted.
"I am honored to do these paintings for The RSM Classic," said Hartough, who did an original oil painting of the 13th Hole at Sea Island Golf Club, Seaside Course, in 2001. "It will be a pleasure to paint the spectacular holes of Seaside.
"Sea Island Club is a beautiful setting for golf."
Fine art prints will be created for each year's painting. The original paintings will be placed in select RSM offices across the country and, with each original, a small number of limited-edition commemorative prints will be created for use as special gifts. Hartough will attend this year's tournament and be present for the final rounds.
Andy Bosman, chief marketing officer with RSM US LLP, said, "We are excited about having Linda join the RSM Classic, to help us commemorate this annual event, which has become a part of the history of Sea Island and of RSM. Linda's talents will make this premier event even more special for our people at RSM, for our clients and for golf fans around the world by providing us all with a permanent reminder of the beauty of the island.
"We are glad to have Linda as part of the team that makes The RSM Classic one of the most unique stops on the PGA Tour."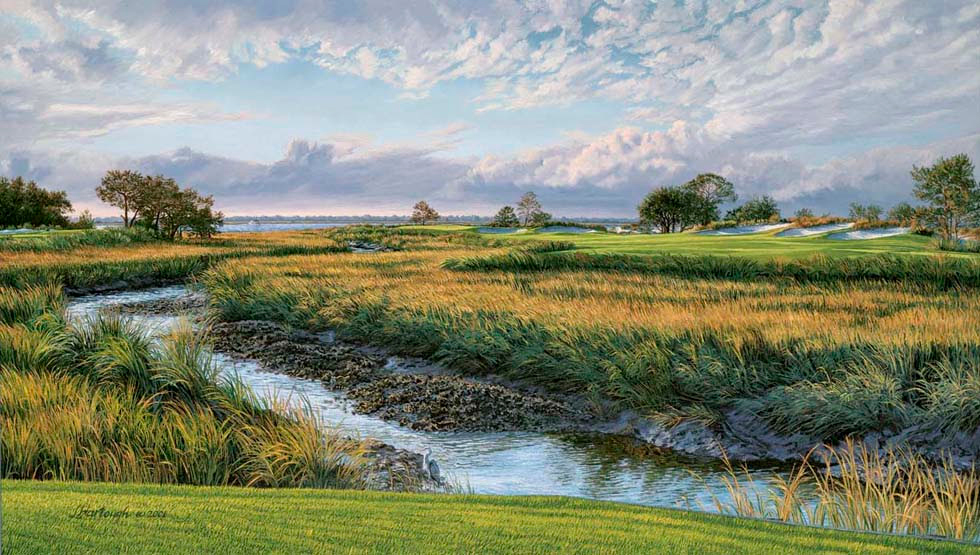 ---
About the RSM Classic
The RSM Classic is an official PGA Tour event hosted by professional golfer and 2017 World Golf Hall of Fame inductee Davis Love III. The 2017 tournament is being held Nov. 13-19 at Sea Island Golf Club, on St. Simons Island in Georgia's Golden Isles. The Davis Love Foundation, a 501(c)(3) nonprofit organization, manages and operates the tournament and has donated more than $7 million to charities that support children and families in need. For more information about The RSM Classic and the Davis Love Foundation, visit RSMClassic.com.
About RSM US LLP
RSM US LLP is the leading provider of audit, tax and consulting services focused on the middle market, with 9,000 people in 90 offices nationwide. It is a licensed CPA firm and the U.S. member of RSM International, a global network of independent audit, tax and consulting firms with more than 41,000 people in over 120 countries. RSM uses its deep understanding of the needs and aspirations of clients to help them succeed. For more information, visit rsmus.com, like us on Facebook, follow us on Twitter and/or connect with us on LinkedIn.
---
About Linda Hartough
A confirmed artist since childhood, early in her career Hartough painted landscapes, portraits and horses. In 1984, Augusta National Golf Club commissioned her to paint its famous 13th hole, an event which propelled Hartough toward specialization as a golf-landscape painter. Since then, her work has achieved a distinguished status, displayed in the permanent collections of such legendary clubs as Augusta National, Laurel Valley, Pinehurst and Pine Valley, as well as in the personal collections of such golf notables as Jack Nicklaus, Raymond Floyd and Rees Jones. Her work is included in the collections of the USGA Museum, in Far Hills, New Jersey, and the Morris Museum of Art, in Augusta, Georgia.
Known for extraordinary attention to detail in her recreation of some of golf's most beautiful holes, Hartough imbues her paintings with admiration for the scenery's natural beauty and respect for the game's history and tradition, elements which seem to emerge from the canvas.
Hartough's paintings of various holes at Augusta National Golf Club are prized by collectors the world over. In addition, Hartough painted the first of her U.S. Open series in 1990 – commissioned by the U.S. Golf Association – a 25-year series she completed in 2014, as well as her official British Open Championship series, from 1990-1999.
Hartough has been honored with the Golf Digest Lifetime Achievement Award. She is a Founding Trustee of the Academy of Golf Art, a professional society of golf artists established in 2004 to create an awareness and appreciation of golf art as a valuable segment of fine art.
For more information, visit www.hartough.com.