HILTON HEAD ISLAND, S.C. (April 28, 2017) – Linda Hartough, world-renowned golf-landscape artist (www.hartough.com), will have some of her work featured May 4-6 during the Regency Parkway Art Show, to take place at Fleming's Prime Steakhouse and Wine Bar in Omaha, Nebraska. The exhibit will be held in conjunction with the Berkshire Hathaway shareholders meeting, with a projected attendance of over 18,000.
"I appreciate the chance to have my art shown at this unique exhibit," said Hartough, who was inducted into the Lowcountry Golf Hall of Fame last month, on Hilton Head Island, South Carolina. "Golfers and non-golfers alike will have the opportunity to view a few of my golf landscapes depicting some of the most iconic golf holes in the world."
Hartough will be one of six well-known artists – and the only golf artist – whose work will be on display during this special inaugural event.
The pieces Hartough will exhibit at this Regency Parkway Art Show include: Holes #11, 12, 13 and 15 at Augusta National Golf Club, and the Augusta National clubhouse; 7th Hole, Pebble Beach Golf Links; and Swilcan Bridge, the Old Course, St Andrews, Scotland.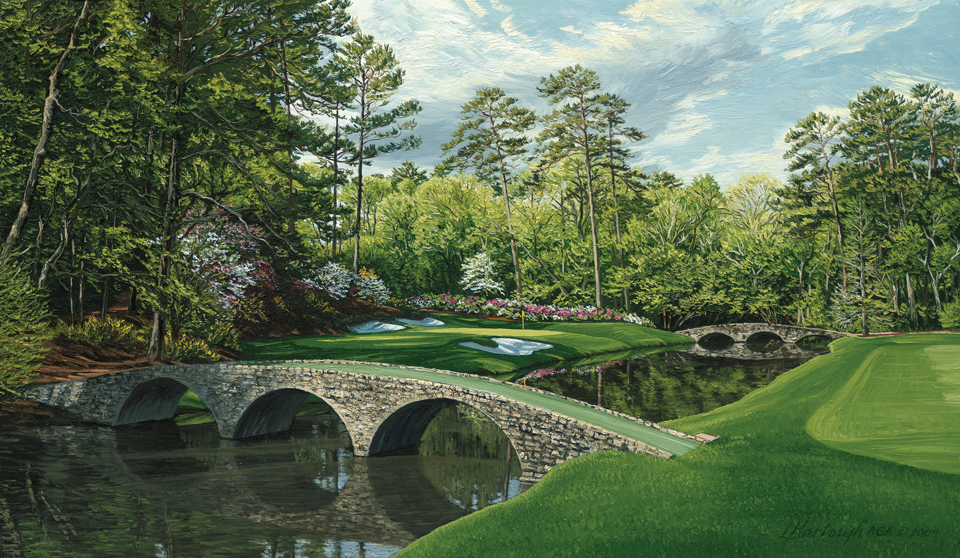 ---
About Linda Hartough
A confirmed artist since childhood, early in her career Hartough painted landscapes, portraits and horses. In 1984, Augusta National Golf Club commissioned her to paint its famous 13th hole, an event which propelled Hartough toward specialization as a golf-landscape painter. Since then, her work has achieved a distinguished status, displayed in the permanent collections of such legendary clubs as Augusta National, Laurel Valley, Pinehurst and Pine Valley, as well as in the personal collections of such golf notables as Jack Nicklaus, Raymond Floyd and Rees Jones. Her work is included in the collections of the USGA Museum, in Far Hills, New Jersey, and the Morris Museum of Art, in Augusta, Georgia.
Known for extraordinary attention to detail in her recreation of some of golf's most beautiful holes, Hartough imbues her paintings with admiration for the scenery's natural beauty and respect for the game's history and tradition, elements which seem to emerge from the canvas.
Hartough's paintings of various holes at Augusta National Golf Club are prized by collectors the world over. In addition, Hartough painted the first of her U.S. Open series in 1990 – commissioned by the U.S. Golf Association – a 25-year series she completed in 2014, as well as her official British Open Championship series, from 1990-1999.
Hartough has been honored with the Golf Digest Lifetime Achievement Award. She is a Founding Trustee of the Academy of Golf Art, a professional society of golf artists established in 2004 to create an awareness and appreciation of golf art as a valuable segment of fine art.
For more information, visit www.hartough.com.