HILTON HEAD ISLAND, S.C. (February 10, 2017) – Linda Hartough, world-renowned golf-landscape artist (www.hartough.com), has been selected for induction into the Low Country Golf Hall of Fame.
"I am deeply honored to be included in the Low Country Golf Hall of Fame," said Hartough, the first artist to receive this distinction. "It is very fulfilling to have this lifetime achievement recognition for painting the great courses of the game."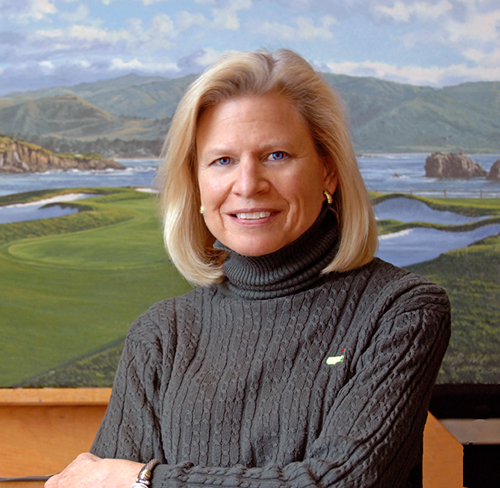 The induction ceremony will take place April 1, 2017, at Moss Creek Golf Club, on Hilton Head Island, SC. Bob Collar, founder and executive director of the Low Country Golf Hall of Fame, will serve as master of ceremonies, and 13-time LPGA Tour winner Rosie Jones will speak.
"Linda Hartough's standing in the world of golf has brought such attention to us here in the Low Country," Collar said. "We consider her to be the number-one golf-landscape artist in the world, and she is most deserving of a place in our Hall of Fame."
Hartough, who resides on Spring Island, S.C., joins Doug Weaver, longtime Palmetto Dunes Oceanfront Resort director of golf instruction, as an inductee into the third induction class of the Low Country Golf Hall of Fame. Those who are already members include Sea Pines founders Charles Fraser and Joseph Fraser Jr.; well-known professionals Mike Harmon, Tim Moss, and Jim and Karen Ferree; successful amateur Kevin King; longtime Sea Pines executive Cary Corbitt; and golf writer Charles Price.
The Low Country Golf Hall of Fame is dedicated to honoring and recognizing people who have excelled in golf or who have contributed to the world of golf through integrity, innovation and leadership.
---
About Linda Hartough
A confirmed artist since childhood, early in her career Hartough painted landscapes, portraits and horses. In 1984, Augusta National Golf Club commissioned her to paint its famous 13th hole, an event which propelled Hartough toward specialization as a golf-landscape painter. Since then, her work has achieved a distinguished status, displayed in the permanent collections of such legendary clubs as Augusta National, Laurel Valley, Pinehurst and Pine Valley, as well as in the personal collections of such golf notables as Jack Nicklaus, Raymond Floyd and Rees Jones. Her work is included in the collections of the USGA Museum, in Far Hills, N.J., and the Morris Museum of Art in Augusta, Ga.
Known for extraordinary attention to detail in her recreation of some of golf's most beautiful holes, Hartough imbues her paintings with admiration for the scenery's natural beauty and respect for the game's history and tradition, elements which seem to emerge from the canvas.
Hartough's paintings of various holes at Augusta National Golf Club are prized by collectors the world over. In addition, Hartough painted the first of her U.S. Open series in 1990 – commissioned by the U.S. Golf Association – a 25-year series she completed in 2014, as well as her official British Open Championship series from 1990-1999.
Hartough has been honored with the Golf Digest Lifetime Achievement Award. She is a Founding Trustee of the Academy of Golf Art, a professional society of golf artists established in 2004 to create an awareness and appreciation of golf art as a valuable segment of fine art.
For more information, visit www.hartough.com.
---