"I really enjoy painting golf landscape. It is some of the most beautiful and varied landscape in the world combined with a deep, historical sense of tradition that transcends time. The painting is a success when both elements emerge." -Linda Hartough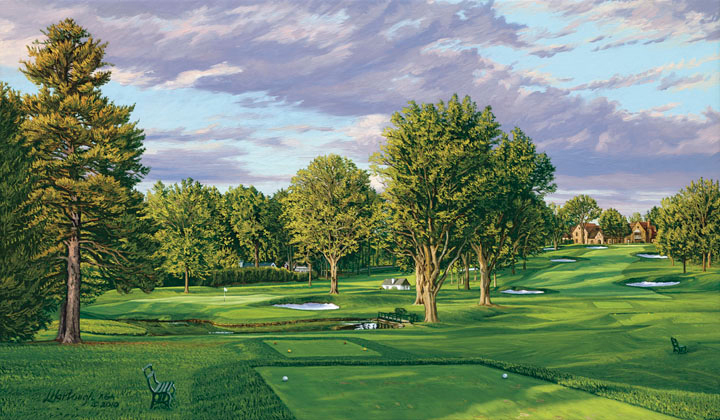 17th/9th Holes, Aronimink Golf Club, Newtown Square, PA
Since its founding in 1896, Aronimink has hosted the PGA Championship, the Senior PGA Championship and the U.S. Amateur. Aronimink's Donald Ross-designed course is consistently rated one of the finest and most challenging in the United States. Upon returning to Aronimink in 1948, many years after it was completed, he proclaimed:
"I INTENDED TO MAKE THIS MY MASTERPIECE,
BUT NOT UNTIL TODAY DID I REALIZE
THAT I BUILT BETTER THAN I KNEW."
– Donald J. Ross
Even today we sense this tradition every time we enter the club grounds and approach our club house. Over the past century we have hosted many prestigious tournaments most notably the 1962 PGA Championship, the 1977 U.S. Amateur Championship, the 1997 United States Junior Amateur Championship, 2003 Senior PGA Championship, the 2010 and 2011 AT&T National Championship, and the 2018 BMW Championship.
Limited Edition - Fine Art Paper - 15 3/8" x 27" - $225
Artist Proof - Fine Art Paper - 15 3/8" x 27" - $325
Limited Edition - Canvas Giclée - 21" x 36" - $750